This is just brilliant. I love how Alan Hirsch and Tim Catchim describe the different types of evangelists out there. Here is the diagram they use: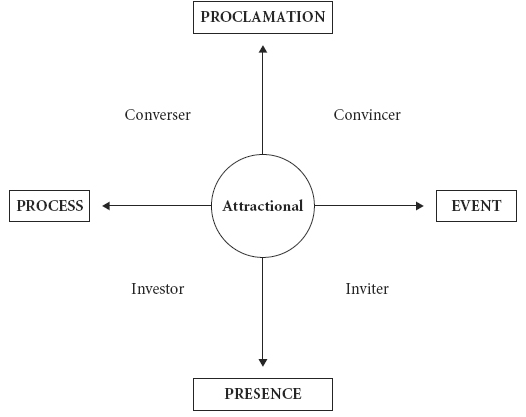 They go and define the four types pretty clearly. You've got to get the book (Permanent Revolution) to read the whole thing and honestly the book is really worth a read.
The types are:
INVESTORS. The investor sees evangelism as walking with people through the entire process of conversion,
INVITERS. They woo others to accompany them into strategic environments that allow them greater exposure to Jesus.
CONVINCERS. Convincers are particularly adept at making persuasive and compelling presentations of the gospel.
CONVERSERS. Not everyone is ready to have an intense, concentrated encounter with the gospel. Some people need to be exposed gradually to the message in ways that allow them to process and internalize its meaning and significance for their lives. Conversers are especially equipped for this because, like investors, they are more comfortable with helping someone discover the meaning of the gospel in an incremental fashion.
I am working through the book and am constantly asking myself which way is it that God is using me. Hirsch and Catchim go through the five gifts to the church described in Ephesians 4: Apostle, Prophet, Evangelist, Shepherd and Teacher. They call this APEST. Worth a read. More later..