An idea is the most contagious thing. Jan Wessele and I talked to leaders at the Western Europe Call to All conference this month. Together we encouraged a personalized evaluation of ministry in Europe. We showed how ministry to the Last, Least, and Lost can be used to diagnose the ministries we do. It shows if we are working mainly with Christians, and how focused we are on caring for the needy and marginalized.
Here is how one church planter's ministries looked: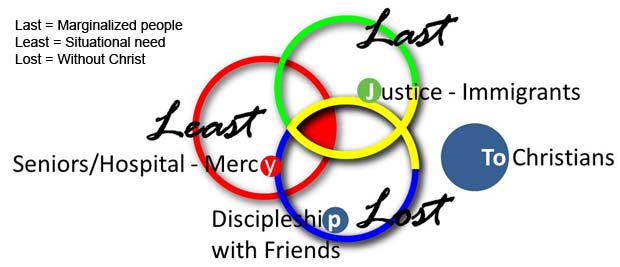 The three large circles and the yellow fish are the areas of ministry to the marginalized, needy, and those without Christ. The dots are the church planter's ministries. They spent 15% of their time helping immigrants, 10% at a hospital caring for seniors, 20% doing evangelism/discipleship, and the rest was given to the Christians of the church. You can see that most of their ministry was to Christians. They were only doing a little evangelism/discipleship with friends. Their mercy ministries and justice ministries were focused mostly on helping Christians.  Notice how the red and green dots are only on the rim of the "Lost" circle. Jan encouraged everyone at the conference to chart their ministries on the graphic. "Where does your ministry fit?"
Then we talked about how to apply the three circles to a European context. It can be used to diagnose a part of the city, a town, region, or even country.
One of the most encouraging results of the talk we gave was the number of people who said they would take the concept to their ministries and discuss it. One leader said he would take it to Paris next week and present it at another conference.
The church is here to reach out to the last, least, and lost, to share the good news of Christ and his transforming power. Jesus saves and transforms lives and communities today. That transformational power "is the same as the mighty strength he (God) exerted when he raised Christ from the dead" (Ephesians 1:19-20).
You can get all of the presentation, papers, and handouts from the talk here.

.