I am reading Tangible Kingdom by Halter and Smay and was struck by this section. I thought I would share it with you:
Here are some common responses we hear about the incarnational way.
It takes the pressure off. My job is to provide a place of belonging, not push the Bible on people.
I can trust God to do the "converting" thing.
As an introvert and a person with hospitality gifts, I now know I can be a major part of the evangelistic process by creating belonging environments
It puts the focus back on my inner life instead of what I say or don't say to people.
I have to become good news to my family and friends if I want to influence them.
This fits the natural flow of my life. We're so busy, but what you've said is that everywhere I am and any person I touch consistently is someone that God will use me to help reach. I don't have to add anything to schedule; I just have to be intentional and authentic in the places I find myself in.
In this incarnational model, everything hinges on having a people or a community to invite people to belong to. Community is the center of the entire missional incarnational approach. (page 98)
I'm Really enjoying my read through this book. Hopefully soon I'll publish my notes on the book.
Here is their YouTube Video: The Tangible Kingdom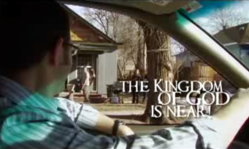 .