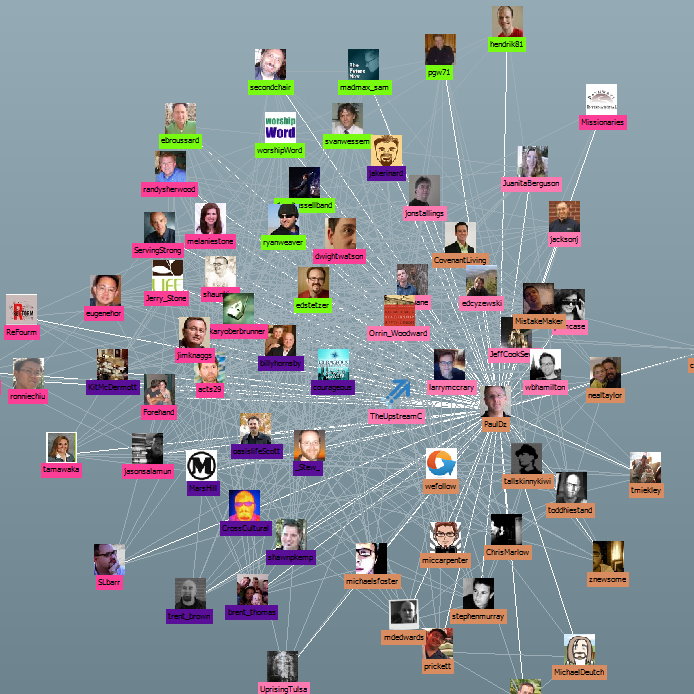 Here is part of my twitterverse. (Here is an introduction to the twitterverse on NPR Weekend Edition and in print here). I am really trying to connect with people in the twitterverse who are interested in missional living and church planting. They are across the world and from many walks of life. I love it.
Twitter is microblogging because it is a blog like this one but it only has 140 characters and spaces. Really short. It, like Facebook, is social media. "Social media is really about socializing" is what Andy Carvin says on NPR. My facebook, by the way, is pdzubinski and my twitter is PaulDz.
Now, I just read a blog by John Saddington via ChurchCrunch who says that Christians have an opportunity to do something new in the Blogsphere/twitterverse. He says, "…there is a new motivation for blogging in town, and that's the desire to connect with other people so that we may communicate an invaluable message." (( Contributing Author: John Saddington, Blogging for Connection: A New Motivational Model – ChurchCrunch, http://churchcrunch.com/2009/04/14/blogging-for-connection-a-new-motivational-model/ -last visited Apr. 14, 2009-. )) I think it is also just to connect with friends but John has something important to say.
Make your own twitterverse map on Twitnest. It is a lot of fun..