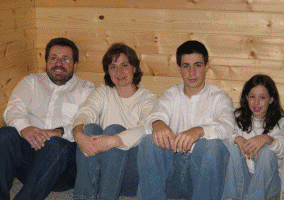 Some of our good friends in Spain are Pedro and Viky. They started a blog in English and put their stories on it. This is how they came to follow Jesus:
PEDRO
I was born in Seville in 1960 in a catholic family and in the school I learned about Jesus, I attended to church every Sunday and I had God fear.
When I was 20 years old I moved to Barcelona, one day a greeter at one church invite me to assist to the Sunday school and to the youth group, was the church where Viky assisted. I came in and I did that for a few months and one day while one evangelistic campaign they show the movie "Jesus" and this day I understood the gospel for the first time, and Jesus become to be my Lord and my Savior.
I remain assisting to the church and been involved in very ministries, I also assisted to some credits at seminary (instituto biblico y seminario teologico de España).  Later we start to collaborate with the camp L'Arcada first as a campers and later as a summer staff and after a few years we understood that the Lord was asking us to serve Him full time in this ministry.
VIKY
I was born in Barcelona in 1966 and when I was 6 years old, my sister (she was 20) became a Christian and she starts to bring me to the church, to the Sunday school and also sent me to camps. When I was 8 years old in one camp, they were explaining a missionary story about one girl that was preaching the gospel,and I remember to pray saying to the Lord that I would like to be like that girl and serve Him wherever he wants.
Later when I was 15 years old I was participating in one campaign and when I was preaching the gospel to others I understood what I did when I was 8, and Jesus became to be my Lord.
After that I remain doing things for Him at my church and always with the desire to serve God with all my time. At the age of 18 I participate in a year training called "Timothy Program" which is training in evangelism and discipleship. After many years God was leading us to work full time in camp ministry.
There is more to their story. Take a look here.