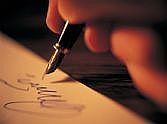 You read your Christmas cards like I do, I look for something personal, something that makes the 'Merry' of Christmas a pleasant smile. The cards mostly follow a form, merry or happy something. Sometimes 'bah humbug' something, but that is a different Christmas card.
I was reading the start of a letter that is in the Bible today. It was Paul writing a group letter to some folks in a town. I had a commentary about the letter open as well and it said, "Thanksgivings were a common feature of ancient letters…the customary opening designed to secure the readers' goodwill" (( Craig S. Keener and InterVarsity Press, The IVP Bible Background Commentary : New Testament [Downers Grove, Ill.: InterVarsity Press, 1993]. 1 Th 1:2. )) I read that and though, 'Wow, Paul followed a form just like Christmas cards!'
Just like a good Christmas card, I think Paul meant what he said: "We thank God always for all of you as we mention you constantly in our prayers, because we recall in the presence of our God and Father your work of faith and labor of love and endurance of hope in our Lord Jesus Christ." (( 1 Thessalonians 1:2-3 [NET] )) Although it sounds a bit stiff to me, I bet it gave the Christians in town a pleasant smile..