I woke up this morning and bounced around the blogs I like looking for things that are happening in Europe. I ended my morning blog jaunt on the Urban Audit web site. It is a site that evaluates 321 cities in Europe.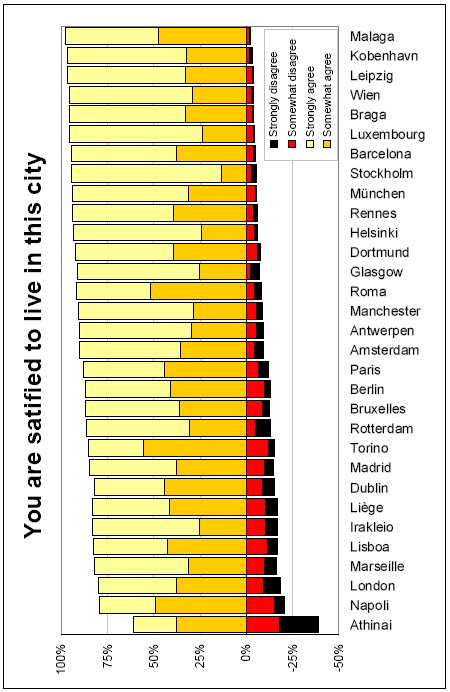 I found a study called "The Urban Audit Perception Study" that discusses the local perceptions on the quality of life in 31 European cities. The concluding graph is on the left. [City names are in their original languages. Thus Wien is Vienna, München is Munich, Bruxelles is Brussels, etc.] As you can see the most satisfying city is Malaga, Spain and the most unsatisfying city is Athinai or Athens, Greece.
My city of Barcelona made into the top third of the most satisfying cities.
The study tracked eight areas the last of which is charted here. They are: "(1) employment opportunities, (2) housing costs, (3) safety, (4) cleanliness of cities, (5) public transport, (6) air pollution, (7) integration of immigrants and (8) overall satisfaction with the quality of life of their city."
I was surprised to see Lisbon (Lisboa) and London near the bottom of the satisfaction scale. Napoli did not surprise me and if you have ever been to Athens you would also not be too surprised.
City life is a very complicated thing…if you live in a city and not a suburb you know what I mean.
We want to see God be the God of these cities so that His kingdom principles would be the ones that are lived out on the streets. It would be amazing to see Jesus' love, justice, mercy and peace on every street corner, in every café, and in every domestic situation…not to mention in the justice systems and development plans for the cities. That would be something to see! The satisfaction scale would definitely be impacted.
Take a look at this video on YouTube called "God of this City — Amsterdam" May God bless you and may we work together to bring God's tangible transforming kingdom to the people of Europe's cities. [Here is the Belfast version of 'God of this City' it has lyrics too.].